You may have heard the news. Boston Marathon, like many races this past spring, has completely moved to a virtual race this year. The idea is, those who qualified to run this year will now miss out on the Wesley Scream Tunnel and Newton Hills–replaced by their local neighborhood, traffic lights and deep feelings of loneliness. When finished, just submit the data from whatever tracking app you use, or just type it in, or don't type anything. And then, in the mail comes your Boston Marathon finisher medal. Don't forget to purchase the $150 Boston 2020 jacket online!


Critics tore this idea apart. On NPR's news program Wait Wait Don't Tell Me, they mocked it, congratulating each other for the 1-hour marathons they will all be completing, which oddly enough happen to be on highway I-5 and appear to involve a Taco Bell drive-thru near exit 54.
Nobody is happy that their races are canceled. So far, I missed out on Shamrock Run Half Marathon in March, Eugene Marathon in April and Siskiyou Outback 100k in June. Every runner's plans suck now, but that doesn't mean you should just give up. There are good events happening. And they're on YouTube and Zoom.
I never thought I'd do a blog post about virtual races but here we are.
To start, let's see where this idea came from. Even before the dawn of the internet, there was the virtual race. In 1957, a magazine called Track and Field News put out an advertisement for The National Postal Racing System. Runners would write their coach-approved 2 mile times and send it via snail mail and a few weeks later, the team would receive a results list to see how they stacked up. Through the 60's and into the 70's it was widely lauded as an effective way to rank your team's progress, as traveling for running meets back then were far and few between.
Note: in 2014, Hoka One One revived the Postal Nationals. The result was overwhelmingly positive, but generally agreed that the nostalia was gone and we should just stick to the internet next year.
But this new wave of virtual races looks quite different from the ones of yesteryear. As much as I want to give these online companies credit for their creativity for moving to an online format during COVID-19, I cannot even award them that honor. For as long as I can remember, I've seen ads for virtual races themed for every holiday, movie, and pop culture reference stacked on Instagram or on the banners of race websites. It's easy: pay $50, fill out this Google Form at some point saying you did your race (or don't) and we'll mail you a t-shirt and a cheap medal! These companies will try to convince you of how wonderful it is to not have to deal with porta-potty line, bag checks and starting corrals, but ignore that you miss out aid stations, scenery and having an actual course and human beings around to run with.
But Cory, some of these are for charity! To which, Cory of last year would ask, "Why do you need a running race to convince you to donate to charity?" We'll get to that later, though.
Dig around a little online and you'll see most these virtual races are organized by just a few large companies have contracts with cheap Chinese shirt and medal manufacturers. Gone For A Run has registration open for 11, Badass Running Company has 46. Most of their budget is on targeted advertising. The same way I get Facebook ads to buy shirts that say, "I'm a Timbers fan living in Portland but his heart will always be in <err=INVALIDLOC>!" I get virtual race ads telling me to sign up for basically anything cute or slightly humorous. Try it, google anything popular followed by "virtual race" and you'll see some company offering you a shirt and a medal for $50. But be careful, because Google Adsense now recorded you're interested in virtual runs, and you will see ads for them EVERYWHERE.
Spare me.
But when COVID-19 struck, something amazing happened: Many runners who happen to code were stuck inside dreaming about what is and what could be. All those hours of software engineering classes finally paid off and thus blossomed the new wave of virtual racing. With it came live YouTube channels with hosts and live results, interesting quirky prizes, specialized apps and elites who would otherwise be training for the Olympics, tuning in and hanging out with runners from all over the world. I have so far participated in a few, and I gotta say, it was actually pretty fantastic.
Ahead are some of the virtual races I've participated or somehow became emotionally invested in.
Araviapa Strong
Jumping on the bandwagon early was Jamil Coury. He's a 5-time Barkley Marathons failure, organizer of Araviapa Running and host of the Youtube Channels Run Steep Get High and Mountain Outhouse. His races include Black Canyon Ultras and many others, and his channel include videos like going for a run using the leftovers from people's forgotten drop bags or Jim Walmsley breaking records while dressed in a Santa suit.
He's also just a very likeable dude, which I assumed was true after watching far too many episodes of Mountain Outhouse and later confirmed is true when I chatted with him a few times at Hong Kong 100. His popularity worked in his favor, as many big names in ultra-running took the plunge and committed to Araviapa Strong. You could choose your distance from 5k to 100 miles, complete the entire distance over a week—although your time was graded from the beginning of your first run to the end of your last run—and really gorgeous prizes were given out made by a local woodworking company for various achievements like most vertical ascent, best vlog, and most creative personal aid station.
It became so popular, in fact, that many runners wanted to donate more to it, to which Jam Jam came up with the idea of using that cash to give out free entries to other runners. How do you get one of these freebies? Jam Jam would post on social media saying a few more were up for grabs and those who are interested can write to him and say what they plan to do if they get a free entry.
Which is what I did.
The deal was, in exchange for a free entry (swag included) I will run the 50 mile (80k) distance attempting to accumulate as much vertical ascent as I can, navigating 12 laps of a 7k course that climbs up to the top of Council Crest and back down again. To add to the fun, I created a YouTube live stream including gadgets that allow viewers to donate. My goal was to get all 50 miles and 3360m of ascent in under 12 hours and raise cash for Partners in Health a charity providing medical resources to the neediest areas of Earth.
The plan was to have Summer lay around in a hammock surrounded by snacks chatting with our friends back in Taiwan and hold little contests and giveaways to the people who donate, while I stopped in every 7k and gave updates about my progress. Instead, gray clouds covered the sky, the temperature dropped and winds picked up. As I started my first lap, the raindrops began coming down, and they didn't stop for the entire day. Summer did her best, shivering in the rain, covering the camera hooked to live streaming with a single umbrella that she tried to huddle underneath as well.
Her day didn't go so well, and eventually I told her to go home and leave the snacks and water. She didn't protest.
Click the video above to see me coming into the aid station.
In the end we raised $155 for charity, I broke my target time and finished 10:40, which was a relief to Summer that she wouldn't have to come out and spend any more time out there than she had to.
We watched live as ultra running legend Gary Robbins crushed the 100 mile distance on a treadmill, finishing with help from his sleep-deprived wife, at the time wearing her wedding dress just to keep the mood light.
In the end, 2000+ runners from 29 countries got out and ran and a ton of cash and smiles were raised.
Wings For Life World Run
If you know me, you know I have a bone to pick with Wings For Life. I've competed twice so far: once in 2017 and once in 2018. I love this race format and obsess over the math behind it to the point that I hate this race. Basically, you start running, and after 20 minutes a car starts slowly chasing you, increasing speed incrementally. You try to run as far as possible before getting passed. For added fun: the race starts everywhere worldwide at the same time and runners in every continent and major cities all over the world compete. Last one still running wins.
I had hoped to find a city in the US holding it nearby, and in a way I had. The developers of Wings For Life anticipated COVID-19 causing issues and created an app that tracks your run and simulates the experience of a car catching up to you and eventually (inevitably) passing you. Making it even more fun, audio was pumped in from announcers who gave updates about what's going on worldwide. As well, an ominous Australian voice representing the catcher car automatically gave audio clues of how far away they are from being caught, and occasionally playfully taunting the runners. Paired with the smooth app and flawless live tracking, it was an absolute blast.
One issue: like I said, runners all over the world start at the exact same time. This meant in Taiwan, I began my run just after sunset and ran into the night, but doing this in the Pacific Northwest meant the race began at 4 am. To add to the fun, despite a week of gorgeous sunshine, heavy cumulonimbus clouds rolled in overnight, preparing to dump down on anyone strange enough to be starting a virtual race in the darkness of 4 am. So just like Araviapa Strong, I was treated to a rinse cycle during the race.
In 2017 I made it 35k before succumbing to poor nutrition and getting passed. In 2018 I finished 15th place with just over 40k. This year I'm fitter but I had to deal with sleep deprivation, almost no flat terrain to gain speed on, dumping rain, cold, and no aid stations. So I just set my sites on trying to keep a consistent effort, not burn out and just enjoy the competition of man versus (electronic) machine.
I packed my hand bottle, 4 gels, 2 Nuun tablets and carried a banana in one hand to stash on my predetermined course around the riverside path. At exactly 4:00 a.m. I began my run and tried to run even pace and effort, saving energy for the later chase that would ensue. In fact, hearing live updates of the current runners participating, along with the announcers on the radio and pumped-in crowd noises, I was quite motivated. The sky cleared up after sunrise and I was still chugging along. I started overheating a bit with all of my layers but had nowhere to drop as I was quite far from home. I picked up my hidden stashed banana at 20k, still chugging along at a marathon-like effort. Around 35k, I started hearing that Australian voice telling me he's getting close. I checked the phone to see a little car icon stalking behind me.
Sure it wasn't as satisfying as being chased by a real car, but the beeping and music slowly got louder as I finished out the last 2k on the track by my house, finishing at an all-out sprint while the voice taunted me. I was eventually overtaken at a hair shorter than 37k. Not a new record, but certainly happy with my performance and still glowing from the feeling of being able to race again.
Quarantine Backyard Ultra
This one I can barely say I participated in, but it earns a spot in this post just from the sheer insanity of this event. Before we dive in, let's just go over what a 'backyard ultra' is.
A backyard ultra does not have a finish line or really even an end. At the start of the race, every runner tries to complete a 4.1667k run before the end of an hour. Sounds simple enough, right? Except this process repeats every hour indefinitely until only one runner remains. Why 4.1667k? Because after 24 hours you complete exactly 100 miles.
The vast majority of participants dropped out after just a few laps (I completed one just for good spirit.) After 24 hours, enough runners, many of whom are professional, sponsored athletes, were still running laps on their respective neighborhoods, treadmills, snow-covered mountain trails, even living rooms and closed down coffee shops. All runners agreed to track the entire experience on Zoom as well as uploading every lap to Strava for inspection in real time and the folks at Personal Peak organized and hosted many Zoom conferences of runners from all over the world competing, including Jam Jam, Mike Wardian, Calem Neff and Courtney Dauwalter. While the main show was definitely Zoom conference 1, it was fun to click around between all 4 rooms and see where everyone is running and how they're doing.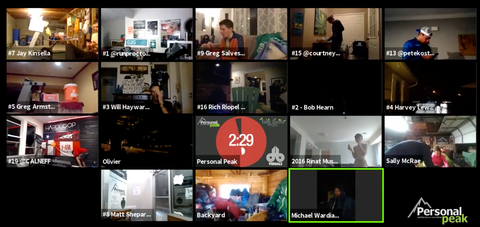 Day one turned to day two as we watched runners worldwide throw in the towel, many delusional with tear-filled eyes baggy from sleep deprivation. Day turned to night, and then back to day again. With 200 miles passed, two runners remained: American Mike Wardian and Czech Radek Brunner. Mike was still doing laps around his neighborhood in Arlington Virginia. He was cheered on by his neighbors while his tweenage sons manned his aid station. Radek on the treadmill in his attic accompanied by his friend.
In these races, the finish line is when something breaks down, and something definitely broke down. 63 hours and 262 miles in, Radek's tablet apparently froze. While the details are hazy, Radek is seen on his treadmill ready to go but not beginning his run as the 64th hour began. Seconds passed while viewers in the comments freaked out saying he didn't begin his lap. I happened to be watching live as it happened. Personal Peak race directors were yelling at him on Zoom to begin his lap, but Radek sipping his tea oblivious. They called his cell phone internationally. Minutes later, noticing his mistake, Radek began his lap, but as per backyard ultra rules, if a runner does not begin his lap at the beginning of the hour, they are disqualified. Even if they begin and immediately stop and nap, it's okay, but the start gate must be crossed or treadmill activated at the top of every hour.
Radek got into a screaming match with the directors. Mike, in a haze of 262 miles of running thought it was him that was disqualified. The directors, probably owing a lot to lack of sleep, sobbed on air while they awarded Mike the victory, despite Mike's protests to let the race continue.
It was such a bitter way to end an amazing two days of athletics. The ensuing weeks on social media were a battleground on whether or not they should have let Radek continue. Either way, another Quarantine Backyard Ultra is planned for July, and it will be worth it to clear out an entire weekend and put this one on your calendar.
Chaski Challenge
Look out: Mike Wardian is back.
This race is organized by Tyler Andrews, winner of many marathons, founder of Chaski Running, an online coaching service as well as Strive Trips, a run-cation program set in Quito, Ecuador. I did an interview with him before his 50k world record attempt. I've been a fan of Tyler for a while, and when I heard he would be hosting a virtual race for free on the day I was hoping to do a long, hard run, it was a perfect fit.
The race was created with the intention that he and a few pro running friends to take a stab at the 50k treadmill world record. Sara Hall joined the fun to take on the half marathon record. Mario Mendoza set his sights on the 100k record. Many pros agreed to try to take down a world record or two together on a live video broadcast hosted by watch brand Coros and sponsored by Hoka One One.
The star of the event, in my opinion, was the trio of Tyler Andrews, Max King and Mike Wardian all attempting to break not only the 50k treadmill world records, but also smash the marathon world records along the way. Mario Mendoza broke the 50k treadmill record back in January, and since then, the record has been broken 2 more times. Most recently it was set in April by Swiss Salomon athlete Matthias Kyburz in a time of 2:56:35. He broke the record by just the tiniest of increments (49 seconds) and threw himself a personal party for his achievements. The dramatic and self-congratulatory escapades are on YouTube if you want to see extreme close-ups of a guy running for a few hours. Interestingly enough, it was hosted by Mario Mendoza.
The elite race of the Chaski Challenge was off to a great start with Mario Mendoza shattering the 100k on a treadmill in 6:45, breaking the old record by 1 hour and 10 minutes. Renee Metivier broke not one… not two… but three different world records in a single run, getting the half marathon (1:14) full marathon (2:41) and 50k (3:11) titles. It didn't last long though, as Sara Hall came in and cleaned up her half marathon record by running 1:09:03, just 5 seconds short of her half marathon personal record. John Raneri beat Tyler Andrew's old half marathon treadmill record by 29 seconds, finishing in 1:03:08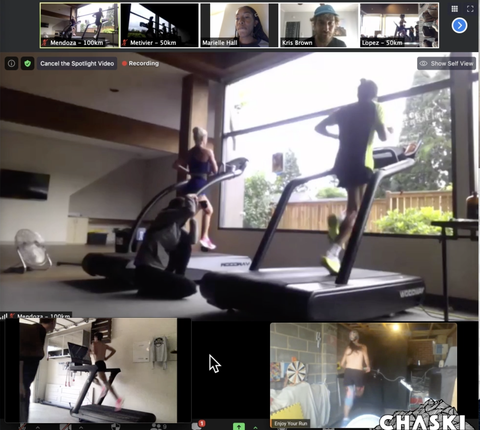 Along the way, Coros did an amazing job tracking the elites by attaching trackers to their treadmills and integrating their live split times into a graphic that shows their current progress compared to the world record.
And then came the big guns: Mike, Max and Tyler. For added motivation, they decided to start at the same time and duke it out head-to-head. Tyler came out hot at the start. He was the only one of the 3 that was willing to divulge his race strategy: saying he would be trying to go harder in the first 5k to take advantage of the fresh legs, then just try to hold on to a steady pace. While Mike fell behind, Max fought hard to keep up. Despite at times being as far as 2 kilometers behind Tyler, Max kept his pace steady, increasing speed in tiny intervals. Tyler crossed the marathon point first, clinching the record for the fastest treadmill marathon at 2:17:56 (previously 2:20:45). With Max tight at his heels, Tyler closed out the 50k first in 2:42:51, smashing Matthias' record by more than 13 minutes. Max also broke the Swiss runner's record, but came in 2 minutes after Tyler.
Although I didn't have live tracking by Coros and teams of Olympians in a Zoom channel commenting on my pace and form, I signed up for the 50k non-elite race. I was curious what running a flat ultra is like.
So far, Araviapa Strong was rainy after a week of sunshine. Wings For Life pounded me with rain. Surely, Chaski Challenge will be kind to me, right?
Wrong.
While setting up the car, the sunshine changed to deep clouds. Summer curled up in the back seat with her laptop to do her online classwork while the sound of rain pitter pattering the roof steadily got louder. I turned on my Garmin and set off to begin my run.
My goal was to run in under 4 hours. Seemed like a reasonable target. I noticed one loop of the downtown Portland riverside bike lanes is exactly 16.6k. Conveniently, this means 3 laps is precisely 50k. This also allowed me to break up the run in digestible chunks with tons of scenery to keep my eyes occupied, an advantage I had over the treadmill runners.
50k on road is strange. Keeping close attention to pacing is something reserved for shorter races, and with trail ultras you can get away with just running by effort. In order to achieve my sub 4-hour goal, I needed an average pace of 4:48/km. My plan was to run as close to a steady pace the entire time. This required taking into consideration the many hills and bridges I'd be crossing and the fatigue that was sure to set in later. I allowed myself to slow and avoid over-straining on the uphills as long as I made up for them on the flats.
Lap one went by in a flash and I was back to the car in 1:27 still doing a 4:42 pace. Along the way, I ate a whole tube of Honey Stinger chews (lemon ginger, not bad.) I refilled my hand bottle with Nuun prepared by Summer. She popped her head up from the back seat and said hello, I grabbed a hunk of watermelon then I was back off on my way.
Lap two started off a bit rougher. The beginning of each lap has me climbing up to and crossing the Sellwood Bridge, but I can open my stride on the downside of the bridge and make up time on the flat sections. A little harder this loop, but I evened out my average pace so that I'd arrive back at the car at exactly 4:42 pace once again. One more tube of Honey Stingers was consumed along the way (mango melon, not great). I said hello to Summer again, she asked if I want to take a break. I laughed, grabbed another watermelon chunk and more Nuun in my hand bottle and I was off once again. I knew the race really began on this lap.
The rain went from a light pattering to an outright downpour and I stripped off my jacket, opting for just a t-shirt. My nipples were already rubbed raw. I started on the familiar climb up to the top of the bridge. I was averaging 5:15 pace climbing up and in conjunction with (what I thought was a quick) relief behind a tree, I noticed my watch now said I was down to 4:47 average pace, meaning I was running the close to the edge of my goal, except now I was on tired legs with 13k left to run. I opened my third pack of Honey Stinger chews (margarita lime, highly recommended) and got ready for hard part.
On the other side of the bridge, I reached the familiar stretch of flat ground of Stillwater Corridor. On the past two laps, I cleared out that slightly downhill 5k stretch at 4:30 pace each time, but I couldn't get my heavy, rain-filled shoes to turn faster than 4:40/km. A marathon ticked by. I was dropped to a section called The Pencils, a floating bikeway along the Willamette. My watch sluggishly ticked down to 4:44 and wouldn't drop any further and I still had to climb out, cross the Steel Bridge and head down the riverfront where the Sunday Market is usually held. I felt like I was flying, but every time I checked my average pace, it hovered somewhere around 4:45 and 4:50. With 3k left, I still had bobbing hills to clear while holding this pace. My entire body protested. My vision started fading and my head swam. I knew I was cutting it short, and so much as a 30-second break here could ruin my entire effort.
Still the hills and trees and geese at Cottonwood Bay passed by, and I tried to ignore my watch and just give the last second everything I had. With 400m to go, I checked my time and saw I am in the clear. I'd finish under 4 hours as long as I keep steady. The rain was now coming down in sheets, blocking my vision. I ran past the car getting the last little bits of 50k in. Final time was 3:56:55. A completely arbitrary time on a completely arbitrary goal. I certainly wasn't anywhere close to Tyler's 2:42:51, then again even Max King and Mike Wardian can't do that.
For a little while it seemed pointless that I pushed that hard. What difference does above or below 4 hours make? It would have been so much easier on my body to just take it slow and grind out the 50k. Then I submitted my time and checked the leader boards.
With over 1000 finishers, the current fastest runner was 3:58.
Without realizing it, I had narrowly stolen first place overall. A day later, Tyler sent me an email asking for my address and telling me a package of swag is on its way.
It feels good being recognized, but it also just felt good to be racing again. Even without the swag, I still get to leave Portland in July knowing that I gave every ounce of effort I had on a 50k on its famous waterfront trails. I got chased by a virtual car all over the neighborhoods of SW. I ran to the top of Council Crest 12 times to raise money for charity. Sure, I didn't get to huddle up in a starting corral or finish under an inflatable arch, but I am still going to pack my bags with these memories of Portland. And it's because of people like Jam Jam, Personal Peak and Tyler Andrews that runners like me could spend our COVID-19 racing.